Web Design Services
Professional Web Design services are delivered efficiently and with speed by our team of website designers.
With a dedicated team of website designers working on your site you can be safe in the knowledge you'll have a great online presence.
We recently completed the web design of Latest Voucher Codes which is a website offering voucher codes and special offers, this may be good site to watch to see how it develops. The design has a long way to go, but we're already seeing 200 hits a day from Google after just 6 months. For more information about voucher codes please visit our website.
We've been designing websites and developing web solutions for over 10 years, and also have extensive experience in the online marketing of websites to attract more visitors.
Designing websites is our passion, if you'd like more information please contact us today.
Our web design services also include the following as standard.
Free domain registration(s).
Free web hosting on all websites.
Free professional email accounts, such as sales@your-website.co.uk, etc.
Free 24/7 customer support.
Cross-browser compatability.
Monthly payment plans available (interest-free of course).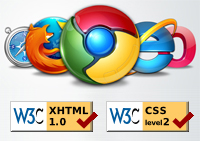 As a professional web design agency, we follow all web development standards, such as cross-browser compatibility.
We fully test against IE6, IE7, IE8, IE9, FireFox, Chrome, Safari, Opera, etc.
Following the design and development of your website, we provide Local Online Marketing services and free after-sales support.
We take great pride when all our websites pass the World Wide Web Consortium (W3C) standards.
In addition to Web Design, our extensive Local Online Marketing services can help any website of any age to see a new income of visitors.
A standard web design agency may build your website, but will then usually leave you to it. At IntelCompute we go much further, with an eye for detail and positioning your website high in search engine rankings.
Some of the things we look at when marketing any website online after the web design phase include adding your website to all the major search engines, along with online business directories.
We specialise in Search Engine Optimisation (SEO) to increase your online presence and to target new prospective customers.
Our Contact Details
Contact us today for a free quote...
Use our simple online contact form
...or email us at info@intelcompute.com
...or give us a call on 07857 940 003.
Extra Services
Following the web design stage of your new website, we also offer Local Online Marketing and SEO services to target your new prospective customers.
Share Us On Facebook