This SEO example shows the power of our Online Marketing with Search Engine Optimisation (SEO) and what we can accomplish.
All the statistics for this example are taken from one of our websites we've been running for many years which we have used to improve our own web design skills and SEO, or Search Engine Optimisation.
This is a view of our stats for a website from way back in 2006 when the site had poor SEO.
The SEO graph shows the numbers of visitors from 1st October 2006 to 1st January 2007, ranging between 200 - 400 a week.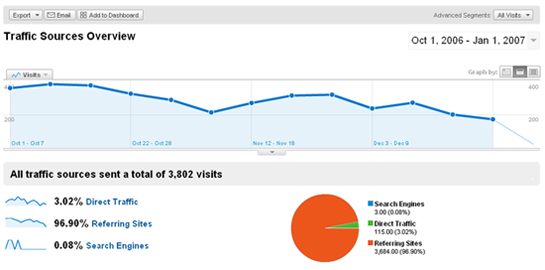 One worrying fact was that only 0.08% of these visitors found our site by searching on the internet!
Most of our visitors were finding us by being linked to from other websites (Referring Sites) or from friends recommending us (Direct Traffic), ie, our SEO was really bad.
Following lots of search engine optimisations being made to the website, and using various other Online Marketing Techniques we ended up with the following in 2009.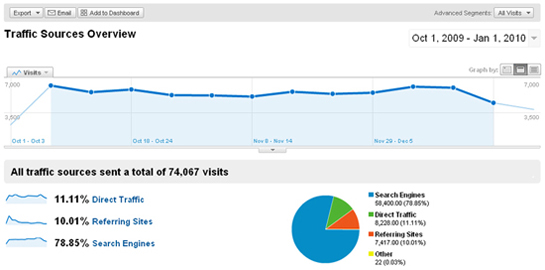 This is exactly the same time-frame as before, October to January.
Now reporting just under 7,000 visitors a week and a healthy 78.85% of those coming from the search engines.
To put that into context, that's a 2,300% increase in visitors compared to a couple of years ago, with our powerful SEO package.
In addition, the percentage of visitors finding us through the search engines after our Search Engine Optimisation such as Google and Yahoo, has increased by 98,500%.
We thought it might be handy to see the progress we made on this website so you know what you can expect from us.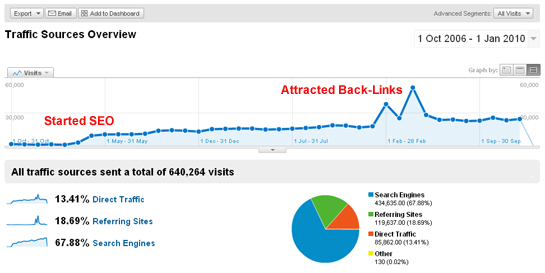 From humble beginnings with around 300 visitors a week, we now secure around 1,000 visitors each and every single day.
Our website was also optimised for targetting local visitors in the London area, which the map below shows to great effect. These SEO stats were taken from a 5-day working week.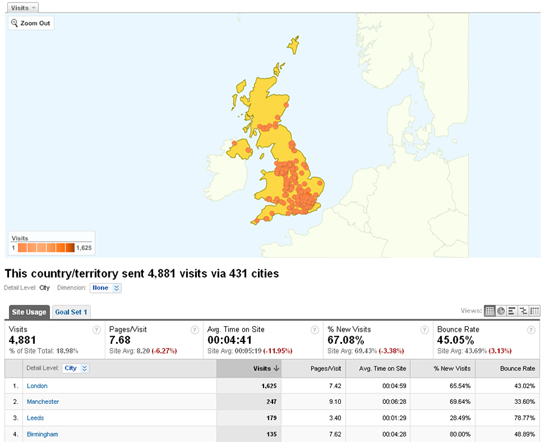 Our Local Online Marketing plan worked great due to our expertise in Search Engine Optimisation, if you'd like to see what we can do for you please Contact Us today.
Our Contact Details
Contact us today for a free quote...
Use our simple online contact form
...or email us at info@intelcompute.com
...or give us a call on 07857 940 003.
SEO For You
To see how we can help attract more visitors and new customers to your website Contact Us today.
Still No Website?
Our professional Web Design services can get your business online quickly.
Share Us On Facebook